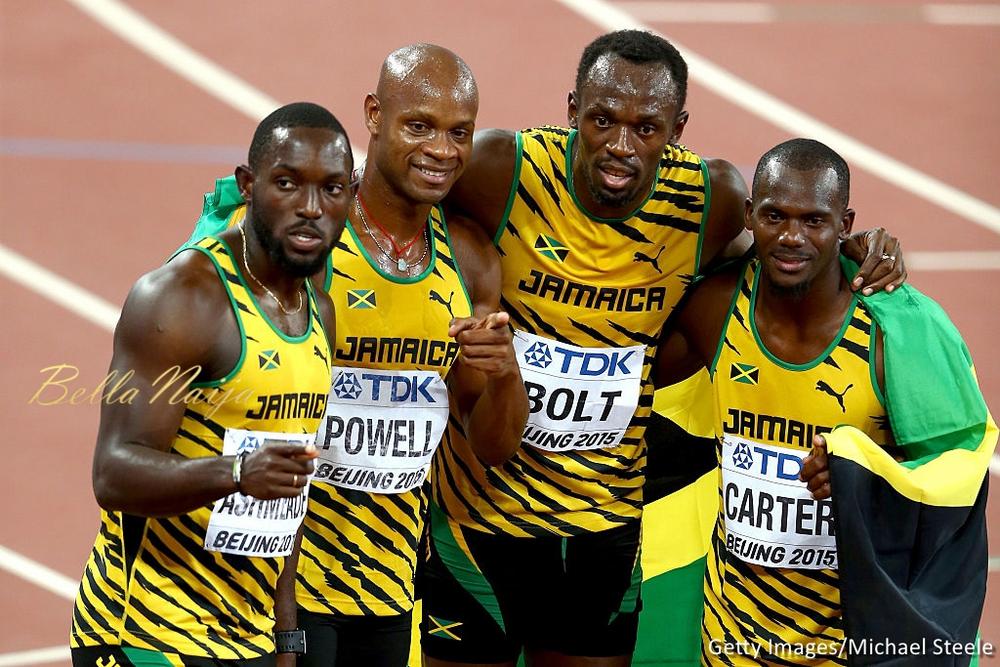 BEIJING, CHINA – AUGUST 29: Nickel Ashmeade of Jamaica, Asafa Powell of
Jamaica, Usain Bolt of Jamaica of Jamaica and Nesta Carter of Jamaica
celebrate after winning gold in the Men's 4×100 Metres Relay final
during day eight of the 15th IAAF World Athletics Championships Beijing
2015 at Beijing National Stadium on August 29, 2015 in Beijing, China.
Jamaican sprinter Usain St Leo Bolt, who is regarded
as the fastest human ever timed, has been stripped of one of his
Olympic Gold medals after his relay teammate was found guilty of doping.
As a result, Usain Bolt will have to hand back one of his nine Olympic gold medals. His teammate, Nesta Carter, tested positive for a banned substance. Nesta Carter was part of the Jamaican quartet that won the 4x100m in Beijing in 2008.
According to BBC,
Nesta was tested on the evening of the Beijing final in 2008 but that
was found at the time to contain no "adverse analytical finding". An
anomaly was discovered in Carter's submission following the IOC's
decision to retest 454 samples from Beijing using the latest scientific
analysis methods.
A report by Reuters in June stated
that Carter's A sample had been found to contain methylhexanamine,
which has been on the World Anti-Doping Agency (Wada) prohibited list
since 2004.
Photo Credit: Getty Images/Michael Steele